The Bay Area, renowned for its innovation and creative spirit, is not only a hub for technology and entrepreneurship but also home to some exceptional fashion schools. This article will explore why the Bay Area is an ideal location to pursue a fashion education, discuss the cost of studying fashion in the region, shed light on the cost of living and accommodation, highlight the opportunities available in the fashion industry, and provide a list of the top fashion design schools in Bay area.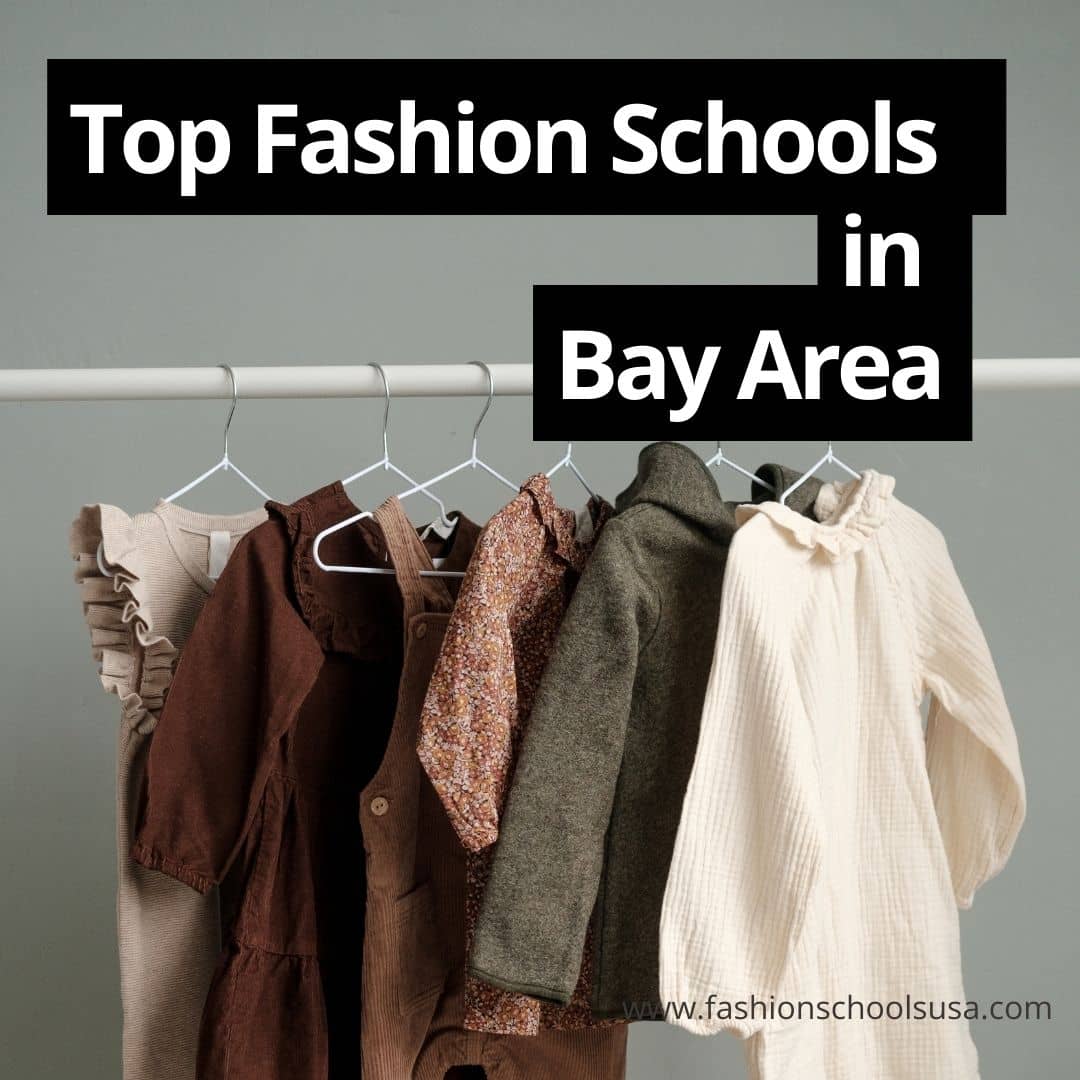 Why the Bay Area is a Good Location to Choose Fashion Schools?
The Bay Area offers a unique blend of diverse cultures, a thriving arts scene, and a fashion-forward community, making it an ideal location for fashion enthusiasts. The region is known for its progressive mindset, which fosters creativity and encourages experimentation. The presence of leading technology companies also facilitates the fusion of fashion and technology, creating exciting opportunities for innovation in wearable tech and sustainable fashion. For fulfillment, you must choose the fashion design schools in S.F. Bay area that meet your goals and resources.
Cost of Studying Fashion in the Bay Area
The cost of studying fashion in the Bay Area varies depending on your chosen institution and program. Tuition fees for fashion programs can range from a few thousand dollars per semester to over $50,000 yearly for prestigious private institutions. It is essential to research and consider financial aid options, scholarships, and grants that may be available to offset the costs which picking the best fashion design school in Bay area.
Cost of Living and Accommodation in the Bay Area
Another essential factor to be considered is that living in the Bay Area can be relatively expensive compared to other parts of the United States. The cost of housing, transportation, and daily expenses can be higher. Rent prices vary significantly depending on the location, with areas like San Francisco being more expensive than surrounding cities. Sharing accommodations with roommates or exploring student housing options can help reduce living expenses.
Accommodations in the Bay area can be expensive, so it's essential to plan accordingly if you are an out-of-state student.
Opportunities in the Fashion Industry in the Bay Area
The fashion industry in the Bay Area offers a wide range of opportunities for aspiring fashion professionals. According to the U.S. Bureau of Labor Statistics (BLS), the San Francisco-Oakland-Hayward metropolitan area employs many individuals in the fashion industry, including fashion designers, merchandisers, stylists, and marketers.
The Bay Area's proximity to major fashion events, such as Fashion Week in San Francisco and Silicon Valley Fashion Week, provides valuable networking opportunities and exposure to industry insiders. Additionally, the region's commitment to sustainability and ethical fashion creates a demand for professionals with expertise in eco-friendly design and production.
The average salaries in the fashion industry can vary significantly based on factors such as experience, position, and the company's size. However, fashion-related careers in the Bay Area generally offer competitive salaries that align with the region's higher cost of living.
Top Fashion Design Schools in Bay Area
Located in San Francisco, the Academy of Art University offers a comprehensive range of fashion-related programs, including Fashion Design, Fashion Journalism, and Fashion Marketing. The average tuition cost is $18,360, and students can avail up to $8,074 in scholarships and financial aid.
With campuses in San Francisco and Oakland, CCA provides fashion programs that emphasize sustainability, cultural awareness, and innovation. The college offers a Bachelor of Fine Arts (BFA) in Fashion Design. Here you can expect to spend $38,448 on tuition costs, and eligible students can avail of $15,624 in grants and aids.
Although not located in the Bay Area, FIDM's San Francisco campus offers specialized programs in fashion design, merchandise marketing, and visual communications. On average, pursuing a fashion course with FIDM will cost around $26,660. Students can apply for several scholarship programs and grants of up to $1,625.
SFSU offers a Bachelor of Arts (B.A.) degree in Apparel Design and Merchandising, preparing students for careers in various aspects of the fashion industry. Compared to other colleges on the list, it is relatively cheaper to pursue fashion education with SFSU as, on average, the tuition cost is $5,472. Furthermore, it is one of the best fashion design schools in Bay area and offers almost 100% scholarship and financial aid awards.
The final addition to our list of the best fashion schools in Bay area is The Art Institute of California in San Francisco. It offers graduate courses in fashion design and marketing. Its urban setting campus attracts students from all over the country. The tuition cost of fashion education here is around $18,648, and the college offers $1,820 in scholarships and financial aid awards.
You can consider the top fashion schools in California to expand your choices.
Conclusion
The Bay Area is an excellent choice for aspiring fashion professionals due to its creative environment, technological innovation, and diverse fashion community. Although the cost of studying and living in the region can be higher, the opportunities and exposure to the fashion industry make it a worthwhile investment. By attending the best fashion design school in Bay area, students can gain the necessary knowledge, skills, and connections to pursue a successful career in the fashion industry.
Frequently Asked Questions 
Are there scholarships available for fashion students in the Bay Area?
Yes, many institutions and organizations offer scholarships specifically for fashion students. It is advisable to research and inquire about scholarship opportunities from the schools you are interested in.
Are internships available in the fashion industry in the Bay Area?
Yes, the Bay Area provides numerous internship opportunities in various fashion industry sectors. Students can gain valuable hands-on experience and establish professional connections through internships.
Can I work part-time while studying fashion in the Bay Area?
Many students work part-time jobs to support themselves while pursuing their fashion education. However, balancing work commitments with academic requirements is essential to ensure success in both areas.
Is having prior fashion experience or a portfolio necessary to get into fashion schools in the Bay Area?
While having prior experience or a portfolio can be advantageous, it is not always a strict requirement for admission to fashion schools in Bay area. Each institution has its own admission criteria, so you should check with the specific schools you are interested in for their requirements.