Fashion is an ever-evolving art form that allows individuals to express their creativity and make a statement through clothing and accessories. As the world is shifting towards fast fashion, where the easy availability of style options makes it convenient to dress new every day, it is unsurprising that the demand for courses in fashion is on the rise. Pursuing a fashion design course can be a great starting point if you have a passion for fashion and dream of turning it into a fulfilling career.
This beginner's guide aims to provide valuable insights into fashion design courses in the US, helping you understand why it can be a rewarding career path and what you should know before embarking on this path.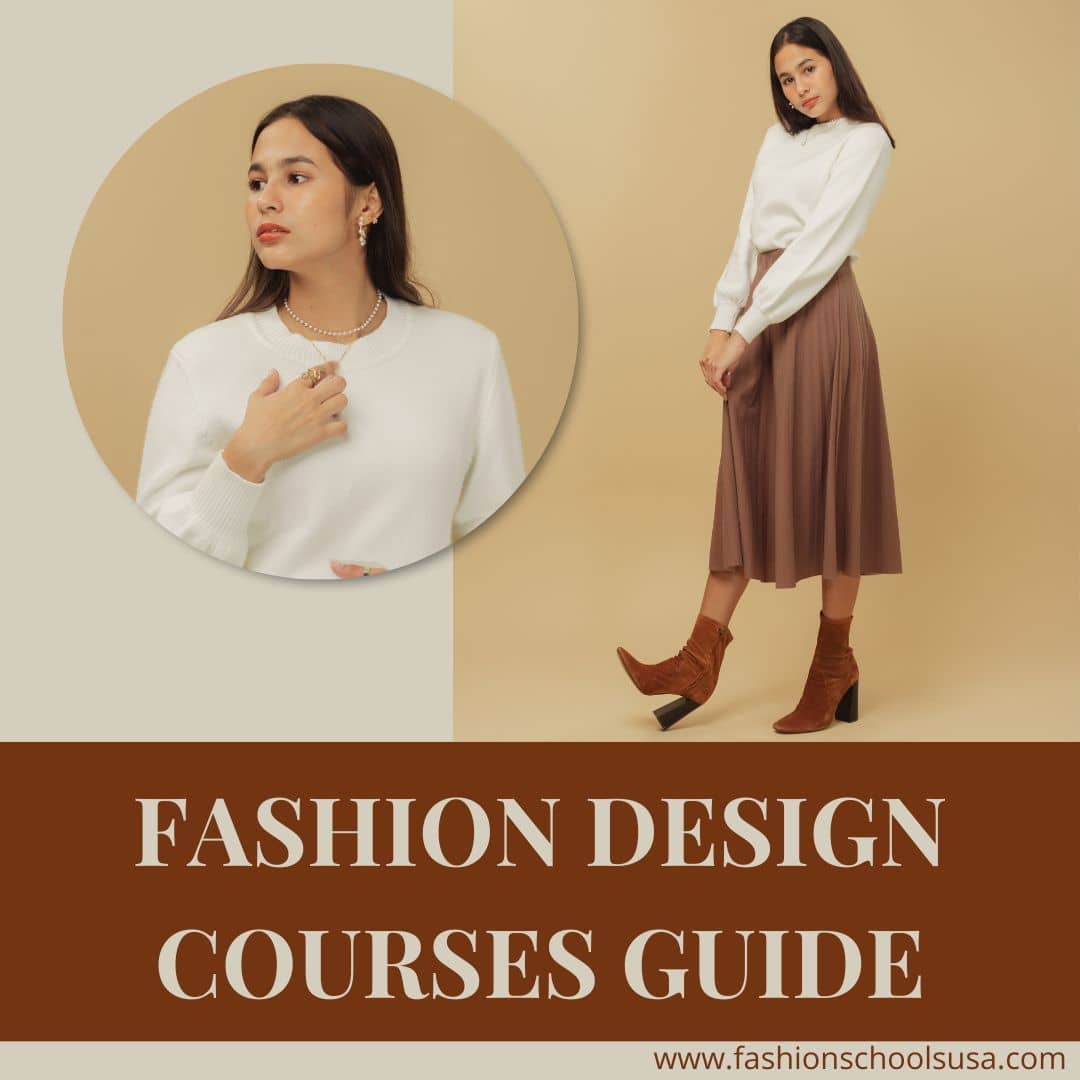 Why Choose a Fashion Design Course
Fashion is a broad term that encompasses several domains. Creativity is a prerequisite, but it is not enough to give you a start in the industry. Fashion designing courses offer a structured curriculum that equips you with the necessary skills and knowledge to succeed in the industry.
There are several reasons why you might want to pursue courses in fashion.
Creativity: Fashion design allows you to unleash creativity and translate your unique ideas into tangible garments or accessories.
Industry exposure: Fashion design courses provide valuable industry exposure, helping you understand the intricacies of the fashion world and stay updated with the latest trends and techniques.
Skill Development: These courses focus on honing your design skills, pattern-making abilities, sewing techniques, fabric selection, and garment construction, enabling you to bring your designs to life.
Networking Opportunities: When you pursue formal education in fashion, you often get opportunities to connect with industry professionals, participate in fashion shows, internships, and collaborations, which can expand your network and open doors to exciting career prospects.
The Fashion Industry Outlook
The fashion industry offers diverse career options, including fashion design, merchandising, styling, textile design, fashion marketing, and more. Understanding the industry outlook can help you make informed decisions about your career path. According to Statista, fashion market revenue will reach US$148.80bn in 2023. It is a 9.32% growth than the previous year, which is conducive for fashion industry professionals.
Here are some key aspects to consider:
Jobs and Career Options: Fashion design courses open doors to various career opportunities, such as fashion designer, fashion illustrator, pattern-maker, fashion stylist, fashion merchandiser, fashion buyer, and fashion marketer.
Pay Scale: Salaries in the fashion industry can vary based on factors such as job role, experience, and location. Entry-level positions typically start at around $30,000 to $40,000 annually, while top designers can earn six-figure incomes or more.
Industry Trends: The fashion industry is dynamic and influenced by ever-changing trends. Staying updated with emerging styles, sustainable practices, and technological advancements can give you a competitive edge.
Top Fashion Design Courses
There are several fashion courses to pursue, each offering unique opportunities. Each of these courses has overlapping areas of application and education. Depending on your interests and industry goals, here are some of the top fashion design courses in the US and the best colleges offering them.
1. Fashion Design Bachelor's Degree
A Fashion Design Bachelor's Degree is a comprehensive curriculum that combines artistic, technical, and business aspects of the fashion industry. Depending on the university you choose, the specific programs may vary. However, all bachelor's courses in fashion design have some standard components.
All fashion design bachelor's degree courses have foundation programs that focus on developing your design skills. You'll learn about various design principles, techniques, and processes. Classes may cover topics such as fashion illustration, pattern making, draping, sewing, and garment construction.
Textiles and materials subjects teach about different types of fabrics, textiles, and materials used in the fashion industry. You'll learn about their properties and characteristics and how they can be manipulated to create specific design effects. Understanding textiles are crucial for making informed decisions in fabric selection for your designs. Fashion Drawing and illustration courses focus on developing your drawing and illustration skills, enabling you to communicate your design ideas visually. Computer-Aided Design (CAD), fashion business and marketing, and portfolio development are other courses offered in degree programs.
It's important to note that the exact structure and content of a Fashion Design Bachelor's Degree may vary between universities and programs. Therefore, it's advisable to research specific institutions and their curriculum to understand each program's unique offerings and requirements.
Top fashion design degree colleges:
Here's a complete overview of fashion design programs.
2. Fashion Merchandising and Marketing 
If you are more excited about the business aspects of the fashion industry, including retailing, merchandising, marketing strategies, and consumer behavior, then this is the right fashion course for you.
Colleges that offer fashion marketing and merchandising courses may have varying curricula. Typically, you will lead about the fashion industry, structure, and key players. The fashion merchandising module involves planning, buying, and selling fashion products. Students learn about assortment planning, merchandise selection, inventory management, pricing strategies, and visual merchandising techniques. Retail management, fashion marketing and branding, fashion promotion and communication, and fashion analytics and market research are other areas of education included in these courses.
Consumer behavior study is a critical education included in these courses. Understanding consumer behavior is crucial for effective fashion marketing. This module explores the factors influencing consumer purchasing decisions, including cultural, social, psychological, and economic factors. Students analyze consumer trends, preferences, and buying patterns to develop strategies that resonate with the target market.
Top colleges for fashion marketing and merchandising courses:
Check out our guides on fashion marketing and fashion merchandising programs.
3. Fashion Design Certificate Program
A Fashion Design Certificate Program is a shorter and more focused educational program than a complete Bachelor's Degree. It intensively studies fashion design principles, techniques, and skills. The common topics you can expect to learn in a Fashion Design Certificate Program are core design courses, fashion illustration, textiles and materials, sewing and garment construction, fashion design process, a fashion business and marketing, and fashion show or portfolio projects.
The top colleges for a certificate program are:
4. Fashion Styling and Image Design
A Fashion Styling and Image Design course focuses on the art and techniques of creating visually compelling and cohesive looks for various fashion-related purposes. This course equips students with the skills to work as fashion stylists, image consultants, or personal shoppers.
It teaches the role of a fashion stylist and the importance of visual storytelling in the fashion industry. Students learn about a stylist's responsibilities, skills, and professional practices. You learn about style elements, such as color theory, proportion, balance, and texture. It also includes the fashion cycle, trend analysis, and forecasting techniques. This consists of the study of current and emerging fashion trends, gaining insights into how trends are influenced by culture, society, and industry factors.
Wardrobe planning and styling teach techniques for wardrobe analysis, closet editing, and strategic shopping. You also learn personal styling and image consulting, fashion photography and editorial styling, branding, and celebrity styling, styling for runway and events, and professional portfolio development.
You can pursue fashion courses in styling and image design at:
5. Fashion Pattern-Making and Garment Construction
A Fashion Pattern-Making and Garment Construction course focuses on the technical aspects of translating fashion designs into actual garments. If you want to learn how to create patterns, cut fabric, and construct garments with precision and attention to detail.
In this course, you get an overview of pattern-making principles and techniques. It included different pattern-making tools, pattern drafting methods, and basic pattern manipulation. The course teaches the elements of measurements and body forms. You learn how to take accurate body measurements and use them to create patterns. You gain knowledge of body proportions, fit adjustments, and grading techniques to accommodate various body shapes and sizes. Flat pattern-making, draping techniques, pattern adaptation and alteration, garment construction techniques, and fitting and garment alterations are other courses included in the curriculum.
Colleges to pursue fashion pattern-making and garment construction courses:
How to Make the Choice for a Fashion Design Course
We understand the availability of several fashion design courses makes choice difficult, but it's to make the right choice. Selecting the right fashion design course is crucial for your educational and professional growth.
Here are the key aspects to consider when making a choice:
Research and Explore: Thoroughly research different fashion design courses and explore their curricula, faculty profiles, and facilities. Look for programs that align with your specific interests and goals.
Accreditation: Ensure that the institution offering the course is accredited and recognized for its quality education in the fashion industry.
Course Content and Specialization: Evaluate the course curriculum to determine if it covers a wide range of relevant topics. Consider whether the program offers specialization options in fashion design, merchandising, or styling.
Faculty and Industry Connections: Look into the qualifications and industry experience of the faculty members. Learning from professionals with practical knowledge can significantly enhance your learning experience. Inquire about industry connections and opportunities for internships or collaborations.
Facilities and Resources: Check available facilities, such as design studios, sewing labs, computer-aided design (CAD) software, and libraries. Access to modern technology and resources can enhance your practical learning.
Alumni Success and Network: Consider the success stories of the institution's alumni and the strength of the alumni network. A robust network can provide valuable connections and mentorship opportunities.
Location: Think about the institution's site and how it aligns with your preferences and career goals. Fashion hubs like New York, Los Angeles, and San Francisco offer proximity to industry events and networking opportunities.
Conclusion
Fashion design courses can help you translate your creativity into a career. Embarking on a fashion design course can be an exciting and fulfilling journey if you are passionate about the industry.
We hope this guide on fashion designing courses will help you understand the benefits of pursuing a fashion design course, gaining insights into the fashion industry outlook, exploring top courses and colleges, and making an informed decision.
If you are interested in fashion design courses, remember to nurture your creativity, stay updated with industry trends, and make the most of the opportunities that come your way.